How to add friends on Spotify? Spotify, one of the world's hottest music streaming platforms, allows you to enjoy your preferred tunes and provides a cultural experience by enabling you to connect with friends and share your musical interests. However, to add friends on Spotify opens up a completely new dimension of discovery, as you can explore what your friends are hearing and create collaborative Spotify playlists. In this comprehensive guide, we'll walk you through the method of adding friends on Spotify, step by step, while sharing valuable tips and tricks to enhance your social music experience.
Table of Contents
Importance of Adding Friends on Spotify
To add friends on Spotify is more than just expanding your social circle; it enhances your general music streaming experience. Connecting with friends gives you access to common songs, playlists, and musical discoveries. This opens up a full world of possibilities, allowing you to explore new genres, discover hidden gems, and participate in lively music discussions. Adding friends on Spotify lets you share your music taste, express your personality through curated playlists, and collaborate on collective musical experiences.
How to add friends on Spotify By First Creating a Spotify Account
To start adding friends on Spotify, you must first produce a Spotify account if you haven't already done so. Follow these simple steps:
Visit the Spotify website or download the Spotify app from your device's app store.
Click the "Sign Up" or "Create Account" button.
Choose your selected way of sign-up, either through your current email address or by linking your Facebook account.
Provide the necessary information, such as your email, username, password, and date of birth.
Accept the terms of service and privacy policy, then select "Sign Up" or "Create Account."
Once you've completed these steps, you're willing to set about your musical journey with Spotify!
Logging in to Your Spotify Account
After successfully creating your Spotify account, you can log in to the platform to get into its features, including how to add friends. Follow these steps:
Open the Spotify app on your device or go to the Spotify website.
Click the "Log In" button.
Enter your Spotify username or current email address and the corresponding password.
Click the "Log In" or "Sign In" button.
Congratulations! You're now logged in to your Spotify account and ready to begin connecting with friends.
Navigating the Spotify User Interface
Before diving into how to add friends on Spotify, let's familiarize ourselves with the user interface. Understanding the various sections and features could make your Spotify journey more enjoyable.
Home: This is your personalized hub, where you'll find recommendations based on your music preferences, recently played songs, and playlists curated just for you.
Search: The search bar allows you to explore Spotify's vast library of music, artists, albums, and playlists. You can search by name, genre, or keywords.
Your Library: Here, you'll find your saved songs, albums, artists, and playlists. This is your music collection within Spotify.
Friends: The Friends section lets you view and manage your friends list, see what they hear, and share music with them.
Profile: Your Spotify profile represents your musical identity. It displays your followers, playlists, and listening activity. You can personalize your profile to reflect your style and interests.
Settings: The settings menu allows you to customize various facets of your Spotify experience, including privacy settings, notifications, playback quality, and social sharing preferences.
Now that you're acquainted with the Spotify interface let's dive into finding and adding friends on Spotify.
Finding Friends on Spotify
Spotify provides several methods to get and connect with friends on the platform. Here are some effective ways to discover and add new friends:
Relate genuinely to Facebook Friends: If you link your Facebook account during sign-up, Spotify will automatically connect you with your friends on Spotify. You can check out them directly from the Friends section or explore their profiles to see their music activity.
Seek out Friends: Utilising the search bar, you will look for specific friends by entering their Spotify usernames, real names, or email addresses. Spotify will display matching results, allowing you to explore the desired profile further.
Import Contacts: Spotify also lets you import contacts from your device's address book or email accounts. By doing so, you'll find friends already using Spotify and quickly add them to your friend's list.
Explore Friend Recommendations: Spotify's algorithms analyze your music taste and listening habits to offer friend recommendations. These recommendations are based on shared musical interests and might help you discover like-minded individuals to get in touch with.
Remember, adding friends on Spotify is a mutual process, so the person you intend to add must accept your friend request to establish the connection. Let's move on to the next section to discover ways to send friend requests on Spotify.
Sending Friend Requests
Now that you've found the friends you intend to connect with on Spotify, it's time to send them friend requests. Follow these steps:
Demand the profile of the person you intend to add as a friend. You can reach their profile through search results, friend recommendations, or clicking on their name wherever you see it on Spotify.
On the person's profile, look for the "Follow" or "Follow+" button. Click on it to send a buddy request.
Spotify will notify the person about your friend request. They'll have the option to accept or decline it.
Once the person accepts your friend request, they'll be added to your friend list, and you'll be able to see their activity and share music with them.
Sending friend requests is a simple process, but it's important to remember that not everybody you return a request to needs it. It's okay if some requests go unanswered; the goal is to build meaningful connections with people who share your musical interests.
Accepting Friend Requests
Receiving friend requests on Spotify is a thrilling part of expanding your social network. When someone sends you a buddy request, follow these steps to accept it:
Check your notifications or friend requests section on Spotify. You'll see a notice indicating that someone has requested to be your friend.
Click the notification or navigate to the friend requests section in the Friends or Profile tab.
Review the friend request details, including the person's name, username, and profile picture. Set aside a second to explore their profile and verify their compatibility with your musical interests.
If you're comfortable adding the person as a buddy, click the "Accept" or "Confirm" button next to their request.
Once you accept the friend request, the person will undoubtedly be added to your friend list, and you can begin sharing music and exploring their musical preferences.
You must exercise caution and discretion when accepting friend requests on Spotify. Verify the person's identity and ensure they align with your interests before establishing a connection. Remember, Spotify is a cultural platform, and building a network of friends with similar musical tastes enhances the entire experience.
Managing Your Friends List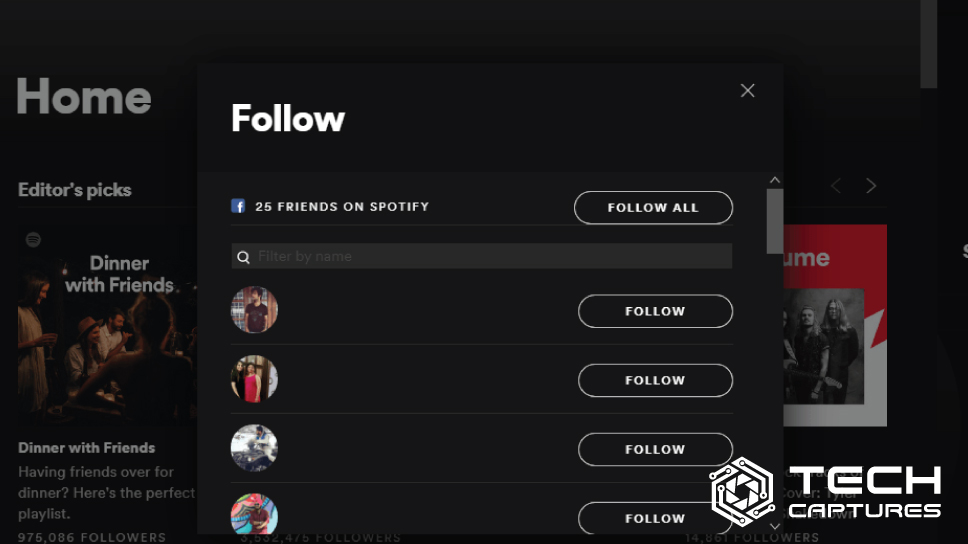 As your friend's list grows, it's important to understand how to manage and organize your connections effectively. Spotify provides convenient alternatives for managing your friend's list:
Viewing Your Friends List: To see your friends list, go to the Friends tab or navigate to your profile and go through the "Friends" section. Here, you'll find a set of all of your Spotify friends.
Removing Friends: If you wish to get in touch with someone or desire to declutter your friends list, you can remove them. Navigate to their profile, click the "Following" or "Unfollow" buttons, and confirm your decision.
Organizing Friends: Spotify allows you to create custom friend groups or categories to raised organize your connections. This feature is especially useful when you have many friends and desire to group them based on different criteria, such as close friends, colleagues, or family members.
Prioritizing Friends' Activity: You can prioritize specific friends' activities in your feed. By doing so, you'll see their music updates and recommendations more prominently, ensuring you don't lose out on their latest discoveries.
Managing your friends list provides you with control over your Spotify social experience. Take advantage of these features to produce a personalized network of friends and maintain meaningful connections.
Sharing Music with Friends
One of the very exciting facets of adding friends on Spotify is the capacity to share music using them seamlessly. Spotify offers multiple ways to fairly share music, whether a favorite track, a recently discovered artist, or a curated playlist. Here are some methods you need to use:
Direct Messaging: Spotify's built-in messaging feature lets you send songs, albums, playlists, and entire artist profiles straight to your friends. Navigate to the friend's profile, click the "Message" button, and select the content you intend to share.
Collaborative Playlists: Collaborating on playlists with friends is an interactive and fun solution to curate music together. You can produce a collaborative playlist, invite your friends to contribute, and collectively build an accumulation of songs that everybody can enjoy.
Social Media Integration: Spotify integrates seamlessly with popular social media platforms like Facebook, Instagram, and Twitter. You can share music straight to your social media accounts or sync your Spotify activity with your social profiles, allowing friends and followers to see what you're listening to.
Sharing music with friends fosters a sense of camaraderie, sparks conversations, and encourages musical exploration. It's a fantastic solution to deepen your connections and discover new sounds.
Collaborating on Playlists
Collaborative playlists are a fantastic feature on Spotify that allows you and your pals to create and curate playlists together. This collaborative approach adds variety, diverse tastes, and a little personalization to your music library. Here are ways to collaborate on playlists:
Develop a new playlist or choose a current one you wish to collaborate on.
Go through the three dots alongside the playlist title and select "Collaborative Playlist" or a similar option, depending on your device.
After the playlist becomes collaborative, you can invite your pals to contribute. Share the playlist link using them or add their Spotify usernames to the settings.
Each friend you invite may add, remove, or reorder songs within the playlist. The playlist evolves as everyone adds common tracks, making a collective musical experience.
Collaborative playlists are perfect for parties, road trips, or exploring new music together. Embrace the ability of collaboration and let your pals improve your playlists using their unique selections.
Discovering New Music through Friends
Adding friends on Spotify enables you to share your favorite music and grants you access to an unbelievable source of musical discoveries. Here are ways to leverage your friends' music activity to explore new tunes:
Activity Feed: Spotify's activity feed displays the recent music updates of your pals, like the songs they've paid attention to, playlists they've created, and artists they're following. Watch this feed to stay updated, making use of their musical journey.
Friend Recommendations: Spotify's algorithms analyze your friends' music tastes and listening habits to supply personalized recommendations. Explore the "Friend Recommendations" section to find new artists and songs based on your friends' preferences.
Collaborative Playlists: Collaborative playlists developed by your pals are a treasure trove of musical gems. Dive into these playlists, listen to the songs added by your pals, and explore the artists and genres they've curated.
Direct Recommendations: Take part in conversations with your pals about music. Request recommendations, share your favorite artists, and exchange musical experiences. These direct interactions often result in exciting discoveries and meaningful connections.
Embrace the social aspect of Spotify, actively engage with your friends' musical journeys, and let their music recommendations broaden your horizons.
Following Artists and Influencers
On Spotify, it's about connecting with friends and establishing a connection with your favorite artists and influencers. Following them lets you stay current using their latest releases, gain insights into their musical process, and discover exclusive content. Here are ways to follow artists and influencers:
Search for Artists: The search bar will locate specific artists, bands, or musicians. Spotify will display matching results; you can click the artist's profile to explore further.
Select "Follow": Search for the "Follow" button on the artist's profile. Clicking on it will provide updates about their new music, concerts, and other releases.
Discover Influencer Playlists: Influencers often curate their very own playlists on Spotify. These playlists provide a view into their musical taste and allow you to discover new tracks that resonate, using their style.
Explore Artist Discographies: Once you're following an artist, you can explore their discography and delve into their entire collection of albums, EPs, and singles. This is a superb way to familiarize yourself with making use of their music and explore their artistic evolution.
Following artists and influencers on Spotify enables you to stay associated with the creators who inspire you and uncover the stories behind the music.
Exploring Public Playlists
Spotify is a treasure trove of public playlists developed by users worldwide. These playlists cover various genres, moods, and themes, making finding an ideal soundtrack for almost any occasion easy. Here are ways to explore and leverage public playlists:
Browse Spotify's Curated Playlists: Spotify provides many curated playlists catering to different genres, moods, and activities. You can access these playlists through the "Browse" section or by looking for specific genres.
Search for User-Created Playlists: Utilising the search bar, enter keywords linked to the kind of playlist you're looking for. You'll find a mixture of public playlists developed by users. Clicking on a playlist will take you to its dedicated page, where you can listen to the songs and even follow the playlist if you enjoy it.
Follow Playlist Curators: If you find a playlist that resonates with your musical taste, you can follow its curator. Following playlist curators enables you to stay updated, using their latest creations and exploring more playlists they curate in the future.
Submit Your Playlist: When you have a well-curated playlist you think others would enjoy, you can submit it to Spotify's editorial team for consideration. If approved, your playlist could reach a broader audience and gain recognition.
Public playlists are a goldmine of musical discoveries. Try to explore them, follow those that resonate with you, and allow the diverse array of playlists on Spotify to improve your listening experience.
Personalizing Your Profile
Your Spotify profile reflects your musical identity, allowing you to showcase your favorite artists, playlists, and activity. Personalizing your profile adds a personal touch to your presence on Spotify and can pique the interest of potential friends with similar musical interests. Here are some methods to personalize your profile:
Profile Picture: Choose a profile picture that represents your personality or reflects your favorite artist. This image is likely to be visible to your pals and followers.
Bio: Craft a brief and captivating bio that describes your musical taste, influences, or favorite genres. Use this space to state yourself and interact with like-minded individuals.
Top Artists and Tracks: Spotify lets you showcase your top artists and tracks on your profile. This feature highlights your musical preferences and is a conversation starter with potential friends.
Featured Playlists: Select some of your favorite playlists to feature on your profile. These playlists could be ones you've created or collaborative ones you've contributed to. Showcasing your playlists gives others a view into your musical world.
Personalizing your Spotify profile adds a personal touch and can serve as an icebreaker when connecting with new friends. Let your profile speak volumes about your musical passions.
Privacy Settings and Customizing Friend Visibility
While connecting with friends on Spotify is a fantastic experience, it's essential to maintain privacy and control over your profile and activities. Spotify provides various privacy settings that allow you to customize friend visibility and manage who can see your activity. Here are ways to customize your privacy settings:
Accessing Privacy Settings: Navigate to the Settings menu, usually positioned in the top-right corner of the Spotify interface. Find "Privacy" or similar options to access the privacy settings.
Friend Activity: Spotify lets you control who can see your friend's activity. You can make it visible to everyone, only your pals, or keep it private.
Listening History: You may also choose to create your listening history, public or private. This determines whether others could see the songs you've recently played or are listening to.
Profile Visibility: Spotify offers options to customize your profile visibility. You can create your profile publicly, allowing anyone to see it, or restrict it to your pals only.
Customizing your privacy settings ensures you have control over who can see your activities and creates a cozy space for your social interactions on Spotify.
Troubleshooting: Common Issues and Solutions
You may encounter some typically common issues while using Spotify to incorporate friends and explore music. Here are a few troubleshooting tips to help you navigate through them:
Friend Requests Not Being Accepted: If your friend requests aren't being accepted, it could be because the person is inactive on Spotify, has strict privacy settings, or just hasn't seen your request. In such cases, it's best to offer them some time or consider connecting with other users who are more responsive.
Unable to Find Friends: If you're having difficulty finding specific friends, double-check the spelling of these usernames, ensure they're active on Spotify, or consider asking them directly for their profile link or username.
Notifications and Email Settings: If you're not receiving notifications for friend requests, messages, or alternative activities, review your notification and email settings in the Spotify app or website. Make sure the required notifications are enabled.
Collaborative Playlist Issues: If you encounter difficulties with collaborative playlists, such instance songs not appearing for several collaborators or synchronization problems, try refreshing the playlist, closing and reopening the Spotify app, or contacting Spotify support for further assistance.
Technical issues will often occur, but Spotify's support team can assist you with any specific problems.
Conclusion
To add friends on Spotify elevates your music streaming experience to new heights. By connecting with friends, sharing music, collaborating on playlists, and exploring their musical preferences, you unlock a full world of discovery and create meaningful connections. Use the step-by-step guide provided in this information to navigate the procedure of adding friends on Spotify, and don't forget to personalize your profile and manage your privacy settings according to your preferences. Embrace the social aspect of Spotify, engage with friends, artists, and influencers, and let the ability of music bring people together.